Looking to sign up for the 2023 LMFA season?
Online registration is now open. Register before July 1 to avoid the late fee.
Contact us at lmfasignup@gmail.com for any questions.
Registration will close during equipment fitting on (approx) Aug 2 to Aug 15.
Practices start August 15, 2023 with games beginning in September and running until November. We offer 8 team sites across London with 3 age groups. All equipment is provided (except cleats).
The registration cost is $325 ($375 after July 1st).
While we make every effort to accommodate team requests, players are registering for the league and are not guaranteed their first choice of team.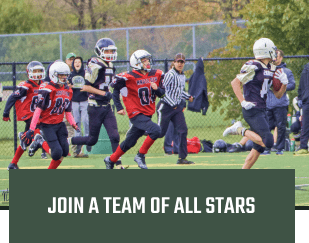 PLAYER REGISTRATION
Sign Up Today
Teams are built on a first-come, first-served basis, so sign up early! The season runs from August to November. The registration cost is $325
Register Now
COACH REGISTRATION
2023 Applications Open
Our community of coaches powers our league. We're always looking for new good coaches to join our team!
Register Now
SPONSOR REGISTRATION
Custom Sponsorships Available
We offer player, team, and division sponsorship opportunities. Help us provide the best player experience possible!
Register Now
EQUIPMENT
You Bring Your Cleats, We'll Provide The Rest.
LMFA provides fully certified football equipment for all players. We sanitize every piece of gear annually using our top-of-the-line Ozone machine. The only equiptment players are required to provide for themselves are cleats.